Goodnight Teddy
by
Michelle Cartlidge
click on a picture to see it full size, it will open in a new window.

Teddy loves to play with his toys, but soon it's time for bed.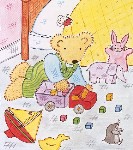 "Bathtime!" calls Mummy Bear. Teddy takes his sailing boat, his duck and his favourite Pink Rabbit.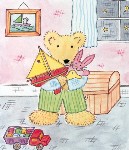 Teddy sails his boat and Rabbit watches from the chair. "Don't forget to wash, Teddy," says Mummy Bear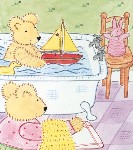 Teddy dries himself, then he brushes his teeth and is ready for bed.
Elephant, Mousey, Moley and Pussycat live in Teddy's bedroom. But where do you think Pink Rabbit is?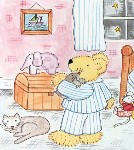 Here comes Mummy Bear. Look, she has Pink Rabbit! "Teddy, you left him in the bathroom."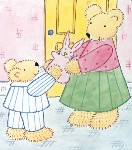 Teddy tucks his toys up in his bed. But is there any room for Teddy?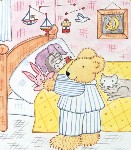 "Goodnight, Teddy," whispers Mummy Bear, "and dream sweet dreams."